Covid 19 Restrictions in Place
Please arrive for your class 5 minutes early.
The clinic door will be locked. We ask that you maintain a social distance while waiting outside the clinic.
We will open the clinic door 5 minutes before class and you will have a temperature check, sanitize your hands, pay for your class and then go straight to your mat in the gym.
Once on your mat please remove your shoes and leave them at the end of your mat.
Please wear a mask entering and exiting the clinic, its optional during the class.
Please leave all personal belongings at home, (no coats / bags / sun glasses etc)
Thank you for your cooperation and understanding at this time.
---
Class Timetable

---
---
Zoom Pilates Classes
---
In the current times we find ourselves in it is important we try maintain our fitness and exercise regimes as best we can. We are delighted to now be able to provide our popular pilates classes through using the zoom app. Click the Zoom icon below to download and register for an account. Then sign up to your preferred class on the calendar above or through your Mindbody app and you will receive an email invite to the class an hour before it starts.
Mindbody App
---
Pilates Classes
---
Pilates is a body conditioning exercise program that targets the deep postural muscles of the abdomen and spine to improve overall central core stability and posture. The mind and body are brought together to achieve these aims through the following eight principles: concentration, centering, breathing, isolation, routine, precision, control and flowing movement. Pilates provides patients with a method of exercise that focuses on correct movement quality, core stabilisation and postural correction.
---
Classes
Level 1:
– Lower level exercises & suitable for beginners
– Suitable for those who have joined us before and enjoy the lower level exercises
– Suitable for anyone who is suffering from back or neck pain
Level 2:
– Higher level exercises
– Suitable for those who have joined us at Pilates before
Level 3:
– For those who want to push themselves to the limit
– Not suitable for beginners
– Not suitable for those with joint pain
Mens Class:
– For men who want to do pilates in a male environment
Preglates:
– For women who want to exercise when pregnant… see below for more info
Teen:
– For teenagers who want a dynamic workout that helps improve posture while increasing flexibility and stability
CB:
– Chair based class for people who want to exercise but find it difficult getting up & down off the floor.
PD:
– A chair based class for people with Parkinson's that want to exercise in a safe supervised environment
---
Pilates suits all ages and fitness levels

---
---
Pilates Classes are also suitable for people with:
– Back pain
– Poor postures
– Neurological conditions
– Mental health conditions
– Sports injuries
– Arthritis
– Stress related illness
– Before and after pregnancy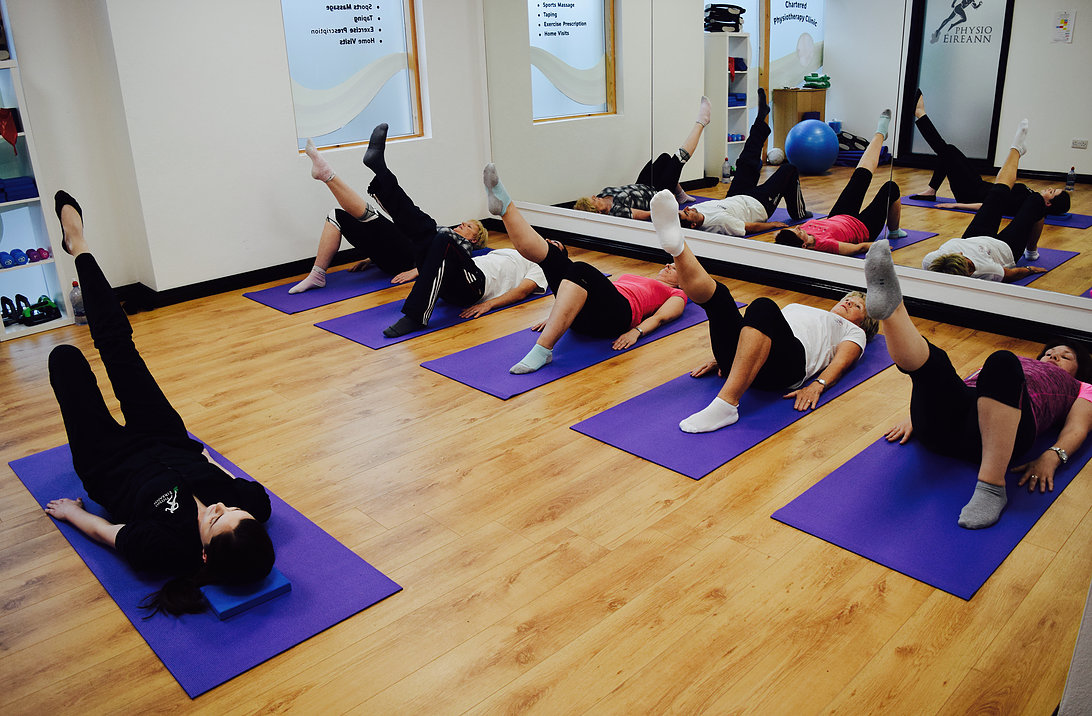 ARDARA
€8
Per Session
Physio Éireann, Main Street, Ardara, Co. Donegal
Equipment: All provided
Book Now
DONEGAL
€8
Per Session
Physio Éireann, Castle St., Donegal Town
Equipment: All provided
Book Now
Killybegs
€8
Per Session
Physio Éireann, Quay Street, Shore Rd, Killybegs
Equipment: All provided
Book Now
---
Book your place online
---